About Iassy
Iași is a city and municipality in the Moldavia region, in north-eastern Romania. The city was the capital of the Principality of Moldavia from 1564 to 1859, then of the United Principalities of Wallachia and Moldavia between 1859–1862 and Romania between 1916–1918.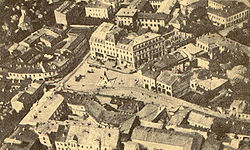 Known in Romania as "The city on seven hills" or "The city of great loves", Iaşi is a symbol of Romanian history. The Romanian historian Nicolae Iorga said "There should be no Romanian who does not know of it".
Nowadays one of the largest Romanian cities (the second most populous city according to the last census), Iaşi is the social, economic, cultural and academic centre of the Romanian region of Moldavia.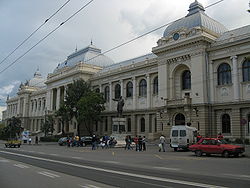 The second largest university centre in Romania, Iaşi is home to the oldest Romanian university and accommodates over 75,000 students in 5 public and 7 private universities. The social and cultural life revolves around the Vasile Alecsandri National Theater (the oldest in Romania), the Moldova State Philharmonic, the Opera House, the Tătăraşi Athenaeum, a famous Botanical Garden (the oldest and largest in Romania), the Central University Library (the oldest in Romania), the high quality cultural centres and festivals, an array of museums, memorial houses and historical monuments.
With historical monuments, 500-year-old churches and monasteries, contemporary architecture, many of them listed on the National Register of Historic Places, Iaşi is an outstanding educational center, and preserves some beautiful pieces of architecture, such as the Trei Ierarhi Monastery and the neo-Gothic Palace of Culture.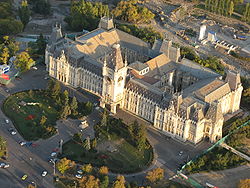 During World War II and the Communist regime some historical buildings in the old city center (around Union Square area) were destroyed or demolished, and replaced by International style buildings and also a new mainly Mid-Century modern style Civic Centre was built around the Old Market Square (The Central Market).
Iaşi is an important economic centre in Romania. The local and regional economy relies on public sector institutions and establishments.
The most important sectors are related to health care, education, research, culture, government, tourism and manufacturing. It is active in metallurgical production, pharmaceutical industry, textiles and clothing, constructions, banking, wine, preserved meat.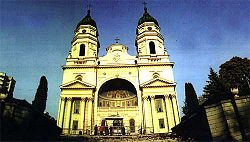 The city is an important IT sector centre, with software companies and two universities that provide high quality graduate engineers.
Iaşi is also a well developed commercial city with many shopping malls and commercial centres.
Iaşi is served by the Iaşi International Airport (IAS) located 8 km east of the city centre. The airport has nonstop flights to and from Bucharest, Timişoara and Vienna.
Text source: Wikipedia
ACCOMMODATION FACILITIES
10 rooms:
6 rooms with 2 beds
4 rooms with matrimonial bed
2 apartaments
including living room, bedroom and bathroom
OUR SPECIAL OFFERS
a 10% discount for larger groups of people;
special prices for our loyal customers.