All Seasons Restaurant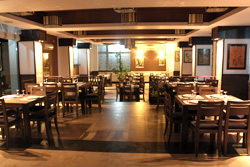 Our elegant and welcoming restaurant , with a capacity of 100, offers a variated menu that includes traditional romanian dishes as well as international ones. We also serve quite lunches and romantic dinners on our terrace, with a capacity of 70.
The All Seasons restaurant is the perfect location to organize special events as festive dinners, weddings, baptism parties, cocktails or conferences (you can use our 180x180cm wide screen video projector ).
ACCOMMODATION FACILITIES
10 rooms:
6 rooms with 2 beds
4 rooms with matrimonial bed
2 apartaments
including living room, bedroom and bathroom
OUR SPECIAL OFFERS
a 10% discount for larger groups of people;
special prices for our loyal customers.